North India Treks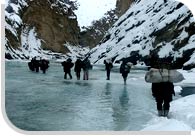 "It is only in adventure that some people succeed in knowing themselves - in finding themselves."
-By Andre Gide
If you are an adventure freak, then North India is the best bet for you. Offering a great opportunity for trekking, North India is a big hit with trekking enthusiasts from across the world. The Himalayan foothills in North India enable the adventurous tourists to not only enjoy trekking but also enjoy the breathtaking scenic beauty. Plan for adventure holidays in North India and take back home some golden memories, which you will cherish for the rest of your life.
The fascinating trekking regions in North India welcome you to an overwhelming experience. On your trekking expedition you will get a chance to trek through various beautiful villages, ancient temples, Buddhist monasteries and many other attractions. The best time for trekking in North India is from July to August as during these months the trekking destinations look vibrant with colourful flowers.
Uttaranchal in North India offers arresting trekking trails where trekkers from far and wide come to enjoy their adventure holidays. Some of the best trekking routes in Uttaranchal are Dehradun-Mussoorie trek, Dodi Tal trek, Gangotri Nandanvan trek, Valley of Flowers trek and Nanda Devi trek. Out of these, Nanda Devi trek is the most adventurous and arduous.
Explore the exciting trekking trails of Himachal Pradesh to satiate your thirst for adventure. Some of the great treks in Himachal Pradesh are Beas Kund trek, Triund-Laka Glacier trek, Chandra-Bhaga Triangle trek and Bara Lacha Pass trek.
Ladakh, a wonderful region in Jammu and Kashmir, is one of the most beautiful trekking destinations of North India. Embark on any of the trekking trails in Ladakh and you are bound to come back enthralled. Some of the known treks in Ladakh are Spituk to Markha Valley, Lamayuru Gompa to Chilling, and Likir to Temisgam.
The mighty hill ranges of the Aravallis in Rajasthan are an ideal place for trekking. Fascinating forest areas of the Aravallis attracts many a tourist for adventurous journies.
Kumbhalgarh is one of the famous trekking trails in the Aravallis.