Lotus Temple ( Bahai Temple )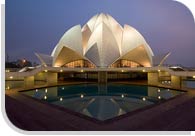 A truly astonishing marvel of the 20th century architecture, the Lotus temple is a renowned prayer hall of the Bahai faith. The temple is known as one of the most splendid temples of India because of its structure and design of a Lotus flower. The only worship place of the Bahai faith in Asia, the Lotus temple is set amidst numerous pools and a sprawling garden. There are no idols in the temple, it is just a hall for prayer. The authorities of the prayer hall stress on maintaining silence.
Background
The Bahai faith is said to be inspired from the basic tenets of Islam such as Monotheism. The temple is designed in the shape of a lotus flower as it signifies purity and peace. The white lotus represents the Bahai Faith, an independent world religion. The Bahai faith is the youngest of the world's independent religions. Founded by Baha Ullah (1817-1892), it works on the vision of humanity as one global family and the earth as one homeland. An Iranian architect Fariburz Sahba was assigned to build Lotus Temple in 1980. The temple was completed and opened to the public in 1986.
Architecture
Located near the famous ISKCON and Kalka Ji temple, South Delhi, this structure spreads over 26 acres of lush-green campus. The 27 petals designed as a half-opened lotus on its outer surface are made of special concrete mould in white cement and decorated with white marble. It is the seventh and the latest Bahai house of worship in the world, and has nine pools and walkways that represent the nine unifying spiritual paths of the Bahai faith.
Because of its lotus shaped structure, the temple is often equated with the Sydney Opera House. The central hall (about 35 m high) is the place to pray/worship and meditate. The prayers in the hall are called 'Conversation with God' and meditation is described as the 'Key for opening the doors of mysteries'. Fariborz Sahba, the Canadian architect of Iranian origin, and a team of about 800 engineers, technicians, artisans and workers built the temple with mathemetical and geometrical configurations of designing and project management.
Features
There is an information centre at the Bahai House of Worship, which provides information on different facets of the Bahai Faith and also provides photographs, books, miniature and short films related to the same. The temple is open to people of all faiths and religions. The temple is an ideal place for meditation and attaining peace and tranquility.
Several devotional programs are organised regularly in the temple that consist of prayers, meditations, and the reading of the sacred scriptures of the Bahai Faith and other religions. The unaccompanied choirs of the temple provide music in such programmes.
One of the most beautiful temples in India, the Lotus Temple with 27 giant white marble petals and nine pools, is also known as Taj of modern India.