Laxminarayan Temple ( Birla Temple )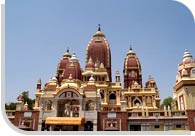 This beautiful ancient temple stands on Mandir Marg, to the west of Connought Place, New Delhi. Laxminarayan Temple is dedicated to Lord Vishnu, the preserver and his consort, Goddess Lakshmi.
Historical Background
"The temple would not be restricted to the Hindus and people from every caste would be allowed inside."- this was the condition laid down by Mahatma Gandhi while inaugurating the Laxminarayan Temple in 1939. The temple was originally built in 1622 by Vir Singh Deo, and later renovated by Prithvi Singh in 1793. From 1938 onwards, the Birla family came forward to take care of renovations,and funding. The temple was rebuilt (1933-1939) by Mr. B.D. Birla of Birla Group of Industries, one of the famous business tycoons of India. Being largely financed by the Birlas, the temple later came to be known as Birla Temple.
Significance
One of the major Hindu religious places in Delhi, the site is basically a complex of temples. This valuable prayer site, containing idols of several deities, is considered one of the largest temple complexes in India. Mahatma Gandhi was also a regular visitor.
The temple is dedicated to Lord Vishnu and Goddess Lakshmi, the goddess of prosperity and good fortune. One can also spot idols of Lord Krishna, Goddess Durga, Lord Shiva, Lord Ganesha, Lord Rama and Lord Hanuman in the complex. A small temple of Buddha is also visited for its wonderful fresco paintings describing his life and work.
People and scholars from all over the world visit the temple to learn about the Hindu religion and spirituality. There is a craze among the scholars to learn Sanskrit and other elements of Hinduism. During their time of learning, they can stay in the guest houses of the temple provided by the temple authorities.
Architecture
With vast gardens, the temple is influenced by Orissan Style. It has unique tall spires made of red sandstone. These beautifully extended spires vary from a height of 116 feet to 165 feet. Along with the huge idols, the temple comprises scultures and Jali work. Along with artificial fountains and waterfalls, the complex, walls and the upper galleries are decorated with paintings carried out by the artists from Jaipur.
The temple is also known for the Geeta Bhawan, a grand hall full of spell-binding paintings based on various scenes of the holy Geeta.
The temple witnesses devotees in huge numbers on the festival of Janmashtami (birthday of Lord Krishna). Laxminarayan/Birla Temple is famous for the grand celebration of Janmashtami every year.