Rashtrapati Bhavan Delhi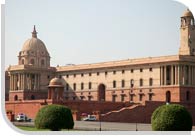 Visit the wonderful architectural wonder that is a mixture of Mughal and Western styles. The picturesque and splendid Rashtrapati Bhavan in Delhi is a major attraction for tourists in India. Situated on Raisina hill, Rashtrapati Bhavan is the residence of the President of India. Its extraordinary architecture, peaceful ambience and beautiful gardens (resembling the Mughal Gardens in Srinagar, Kashmir) makes it one of the major attractions of the city.
Background
The building was designed by Sir Edward Lutyens as the residence of the British Viceroy. Lord Irwin was the first occupant of the building. Rashtrapati Bhavan, spread over an area of about 330 acres, is a marvellous structure and a tourist's delight comprising 340 rooms. The official residence of the First Citizen of India– the President, it was completed in 1929 at a cost of 12,53,000 pound sterling and inaugurated in 1931. Formerly known as the 'Viceroy's House' until independence, it was renamed 'Rashtrapati Bhavan' in 1950.
Architecture
The dome of Rashtrapati Bhavan is called 'Chhatri'. Under this large dome, is the main hall 'Durbar Hall', where the President hosts official functions. Measuring about 22.8 m in diameter, the Durbar Hall is used for all kinds of official ceremonies such as the swearing in of the Prime Minister, Cabinet, and the Members of Parliament, or the Arjuna Award ceremony etc. The Durbar Hall, Ashoka Hall and the pillars are excellent examples of traditional Indian art and engravings. The circular stone basins on the top of the palace, statues of elephants, fountain sculptures of cobras in the gardens, and the grilles made from red sandstone (jaalis) are well known for unique Indian designs.
One can spot several bells carved in the columns at the front entrance. These bells were designed with the idea that since these stone carved bells could not ring, the British rule would never come to an end. Despite this, the empire came to an end a brief 16 years later. The beautifully built 'Jaipur Column' stands in the middle of the main court in front of the Rashtrapati Bhavan. This 145-metre high column was gifted by the Maharaja of Jaipur. Another beautiful structure is the massive neo-Buddhist copper dome.
Apart from all such excellent architectural patterns, the Rashtrapati Bhavan is known for its colourful gardens. Filled with a variety of flowers, these gardens are open to public view between mid-February to mid-March. The place is a photographer's paradise during the months of late January to March.
Entrance
One needs to take special permission from the Government of India Tourist Office, to visit the Rastrapathi Bhavan.
How To Reach
Indira Gandhi International Airport is located 23 km southwest and the domestic air terminal at Palam is another 5 km from the international terminal. Taxis and buses are frequently operated.