Chandni Chowk Delhi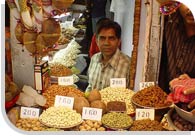 Amazing traditional baazars, vibrant life patterns, colourful atmosphere, a feel of unity and secularism, and heavy crowds - you are at the greatest trading hub of Delhi. Chandni Chowk or the 'Moonlight Square' takes you back about three centuries when the walled city of Shahjahanabad was established in the 17th century. Located in Old Delhi, the congested and most densely populated market of Chandni Chowk is known for its historical landmarks and the most popular shopping area.
Background
The place was planned and founded in 1650 by Jahanara, the daughter of Shahjahan. In that era, the shops lined the street that led to the Red Fort. There was a pool in the main market area (which exists as a fountain today). The place is believed to have received its name from the reflection of the full moon in that pool.
Religious Values
Chandni Chowk, perhaps, is the only place in Delhi that has holy religious shrines of all the major religions in India. The most important among these are:
Sri Digambar Jain Lal Mandir (Jainism)
Jama Masjid (Islam)
Gurudwara Shish Ganj (Sikhism)
Gauri Shankar Temple (Hinduism)
Sunehri Masjid (Islam)
Baptist Church (Christianity)
The holy shrines of all the major religions on the same street reflects  national unity, secularism and brotherhood.
Shopping Hub
Being one of the greatest trading hubs in India, Chandni Chowk has acquired international fame because of its world class garments, electronic goods, toys, household items and eatables. The Katras (separate sections specializing in a particular type of goods) are known for extraordinary jewellery, fabrics, sweets and food items. People, including tourists, are fond of jalebis, peras, fruit chaats, biriyanis, kebabs etc. at Chandni Chowk. In the clothes segment, chikan and zari, intricate traditional lace work and embroidery, are the specialties of Chandni Chowk.
Famous mouth-watering delicacies are offered at:
The Ghantewala Halwai
Natraj's Dahi Bhalle
Kanwarji Bhagirathmal Dal-bhaji wallah
Chaatwallah
Paraanthewali Gali (known for numerous kinds of stuffed paranthas)
Bikaner Sweet Shop
Haldiram's
Gianiji ka Falooda
Karim (known for awesome non-veg items)
Other famous sections of Chandni Chowk market are:
Katra Neel (the cloth market; famous for silk, satin, crepe, cotton, muslin, etc.)
Bhagirath Palace (largest electrical goods market in Asia; also known for medical equipments and allopathic medicines)
Kinari Bazaar (famous for zari and zardozi work and different Indian bridal dresses)
Dariba Kalan (gold and silver jewellery)
Chhatta Chowk Bazaar (artificial and semi-precious jewelry, embroidered bags, hand painted wall hangings, fake antiques, etc)
Festivals
Being a place of such a diverse population, Chandni Chowk celebrates the Republic Day Parade on 26th January, and all other major festivals such as Diwali, Dussehra, Id-ul-fitr, Sikh, Jain and Christian festivals with full vigour and enthusiasm.