About Delhi
Tourist Attractions
Humayun Tomb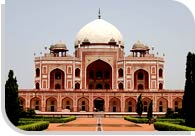 The renowned Humayun's tomb, the very first garden tomb of its kind in India, the best architectural design of the Mughal dynasty. Built according to a brilliant and mathematical plan, this magnificent architecture took eight long years to complete. The plan was based on the descriptions of Islamic gardens and its style was followed in several other Mughal constructions in India, including the Taj Mahal in Agra.
Background
The reign of Humayun started off after the death of his father Emperor Babur in 1530 AD. After ruling for about a decade, he was overthrown by Sher Shah Suri. But he regained his throne around 1555. After his death, his Persian widow Haji Begum or Bega begum took the charge of constructing a tomb for her husband. Built with the help of the Persian architect Mirak Mirza Ghiyuath, Humayun's tomb, clearly shows signs of Persian influence. The work for the same started in the year 1562.
Architecture
This garden tomb works as an inspiration for the lavish hotels of India and reveals how stylish the Mughal emperors were. The tomb is built in red sandstone, but to provide some variation, some yellow and black sandstone has been used. This variation in colour proves to be a delight to the eyes of the tourists or visitor. It is set in the middle of a geometrically arranged garden. According to Islam, paradise or jannat is a place set somewhere in the middle of a garden from where a water stream flows. The garden is built in 36 square blocks that are divided into 4 separate gardens. The style is called the Char Bagh Garden Style.
Based on the description of Islamic Paradise Gardens, the tomb is octagonal in shape, and crowned by 42.5 m high colossal double dome. The dome is 140 feet high from the base of the terrace and is topped with a copper pinnacle. The whole tomb is built over a platform with colonnades, under which lie the graves of various nobles and workers of Humayun's period. The central room in Humayun's tomb has the cenotaphs of the emperor Humayun and his queen Bega Begum. It is believed that Hamida Begum spent more than one and a half million rupees to build this majestic monument, which was completed in the year 1570.
Most of the tourist attractions of Delhi are related to the Mughal dynasty one way or the other. Humayun's Tomb is considered the first mature example of Mughal architecture in India. The tomb clearly reveals the love of Mughals for
gardens, fountains and water
. Humayun's Tomb was added to the
UNESCO's World Heritage List
in the year 1993.