Shanti Van Delhi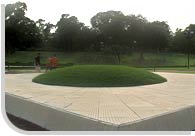 Visit Shanti Van to see the National Shrine set around lush green lawns and trees. Shanti Van is known as Jawahar Lal Nehru memorial. It is located on the bank of River Yamuna, north of Rajghat.
Shanti Van is the Samadhi of Pandit Jawar Lal Nehru, the great National Leader and the first Prime Minister of independent India. Pandit Nehru led India to the path of progress and modernization. He also holds the record for being the longest serving Prime Minister of India. The last rites of Jawahar Lal Nehru (popularly known as Chacha Nehru by children) were performed here on 27th May 1964. A tombstone has been erected at his funeral place at the Shanti Van.
The spot is maintained to honor the great leader who was the father of the Non Aligned Movement and who provided a new direction to modern India. Next to the memorial of Pandit Nehru, lies the tomb of his grandson Sanjay Gandhi, who died in a plane crash in 1980. A few other memorials established near the Shanti Van are: Raj Ghat (Mahatma Gandhi), Vijay Ghat (Lal Bhadur Shastri), Shakti Sthal (Indira Gandhi), and Vir Bhumi (Rajiv Gandhi).
The memorial is open to visitors on all days without any entry fee. People visit the place to pay homage to the greatest Prime Minister in the history of Indian Democracy. There is no restriction on photography as well.
Annual Event/ Special Event
A prayer and cultural programme is organized every year on his birthday (November 14- Childrens' Day) and death anniversary (May 27). Children perform various activities and dances on the occasion of Childens' Day every year. Political leaders visit the National shrine to pay homage to their beloved leader.
How To Reach
Nearest international airport: Indira Gandhi International Airport
Nearest railway station: Old Delhi Railway Station
Nearest metro station: Kashmiri Gate
Nearest bus stand: ISBT Kashmiri Gate (Inter-State Bus Terminal)