Gurdwara Bangla Sahib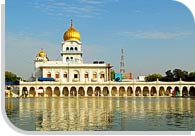 A stunning golden dome and tall flagpole is the identity of Gurudwara Bangla Sahib in Delhi. It is the most prominent shrine of the sikhs in the city. Located next to Gol Dak Khana, along Baba Khadag Singh Marg near the Connaught Place, this place of Sikh worship is open to people of all faiths, castes or creeds.
Background
Gurdwara Bangla Sahib, the biggest gurudwara in Delhi, was initially the residence of Raja Jai Singh Amber of Jaipur. In 1664, Guru Harkishan Singh (the 8th Sikh Guru) resided here during his visit to Delhi. As the legend goes, there was an epidemic of smallpox and in the city that time. Guru Harkishan Singh Ji helped the suffering by providing aid and fresh water from the pond at this house. It is believed that the Guru blessed the holy water (Amrit) of the pond (Sarovar). People take bath in the holy pond to wash off their misdeeds and attain peace of mind.
The Gurdwara is devoted to the eighth Guru, Shri Guru Harkishan Sahib Ji and named after the Sikh General Sardar Bhagel Singh who built a total of nine Sikh shrines in Delhi in 1783 including Gurudwara Banga Sahib.
Features
Apart from the sacred pond, the Gurudwara has:
A secondary school
Baba Baghel Sing Museum
A library
A hospital
Sangat congregations
Pangat or community kitchen, also known as Guru-ka-langar, that serves delicious food to all the devotees everyday.
While entering the main complex, it is mandatory for everyone to cover his/her head and wear such clothes that cover the legs and shoulder. The cultural music/prayer 'Gurbani' echoes in the Gurudwara throughout the day. About 300 employees work in shifts in the Gurudwara, managed by the Delhi Sikh Gurdwara Management Committee. Apart from this, hundreds of volunteer and devotees also work here everyday.
Special Occasions
Music and song are considered to be one of the special ways in Sikhism to connect the human soul with the God. Several occasions and festivals are celebrated in the Gurudwara with great enthusiasm and zeal. The committee celebrates the birthday as well as the death anniversary of Guru Sri Harkrishnan Sahib with great respect. Besides, the other major festivals celebrated are the birthdays of all their 10 gurus (especially that of Guru Nanak and Guru Gobind Singh), Baisakhi and Bandi Chhor Divas (Diwali).