About Delhi
Tourist Attractions
Delhi People and Culture
Moulded With The Changing Faces Of History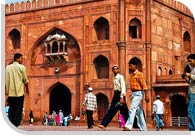 Delhi is an ancient city that has witnessed various ups and downs, politically and culturally. But every time, its culture, heritage, religion and the tradition regained itself for the generations to come. The culture of Delhi seems to be a blend of the modern lifestyles as well as the old traditions and values. On one hand you can see the Old Delhi still living with the old traditions and upholding the values of the past while on the other hand is New Delhi, influenced by the strong forces of modernisation. You can hear the Qawwalis of Nizamuddin Shrine, Gurbanis of Bangla Sahib and Aartis of Chattarpur Mandir, while in stark opposition to this is the loud and blaring music of pubs and discotheques. This diversity proves to be a great attraction to tourists.
The fusion of various traditions and religions has painted Delhi in different colours brought from all over India. Delhi, being the capital, reflects the cultural diversity and religious unity of India. It shares its borders with Uttar Pradesh, Rajasthan, Haryana and Punjab, which strongly influences the lifestyle and language of the people. But socially, Delhi welcomes every religion with warmth. From Durga Puja of the Bengalis to Guru Purab of the Sikhs, from Easter & Christmas of the Christians to Buddha Purnima of the Buddhists- every occasion is celebrated here with zeal and enthusiasm like other national festivals including Holi, Diwali or Eid.
When it comes to the historical monuments and religious shrines, Delhi boasts of having a huge and wonderful collection of structures showcasing different
architectural patterns
. For example, the Jama Masjid is a beautiful example of Indo-Persian art, whereas the Birla and the Chattarpur Temples are considered as an amalgamation of the north and south Indian styles. From Gurdwara Sheesh Ganj to Bangla Sahib and from St. Thomas Church to the Lotus Temple or the monastery near the interstate bus terminal, every structure is a marvellous piece of artwork.