Jantar Mantar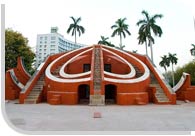 Visit the astronomical observatory to explore a scientific thesis in red stone. Situated near Connaught Place, the Jantar Mantar was built in 1710 in Delhi by Raja Jai Singh II of Jaipur (1699-1743). This observatory consists of mason-built astronomical instruments to chart the positions of different planets, sun and the moon. Raja Jai Singh had a keen interest in astronomy and astrology and therefore established four other such observatories, each at Ujjain, Jaipur, Varanasi and Mathura (Jantar Mantar in Mathura no longer exists today).
Background
The word "Jantar Mantar" was formed collectively with the Sanskrit words: 'Yantra' and 'Mantra', which were used as the basic elements to make the observatory work. The yantras or the instruments, namely samrat yantra, jai prakash, ram yantra and niyati chakra- used in the observatory were built of brick rubble and plastered with lime. These were the basic elements used to make various astronomical calculations.
Being passionate about astronomy, Sawai Jai Singh II completed the Jantar Mantar in Delhi in 1724, which remained operational for about seven years. Raja Ji was honoured with the title of "Sawai" (meaning one and a quarter of an average man in worth) by the Mughal emperor Aurangzeb. Even Muhammad Shah, being highly impressed with Jai Singh's intelligence, raised him to the rank of governor of Agra and later of Malwa.
Once, while trying to settle an argument between a Hindu and a Muslim astrologer at the court of Muhammad Shah, Raja Jai Singh used several scientific calculations and astronomical tables, whose result was readily accepted by the Mughal. Later he used the same calculations and established the Jantar Mantar in Delhi, based on proper Mathemetical patterns. This astronomical observatory was used to observe the movements of the sun, moon and other planets.
Although these instruments are unable to make accurate observations today, because of the tall buildings around the observatory, the building of Jantar Mantar is an integral part of India's scientific heritage. It is one of the major technological achievements under the rule of the Rajput kings. Set amidst lush green lawns, the place is frequently visited by people to spend romantic evenings or to see the grand scientific construction. The best part about the Jantar Mantar is the Misra Yantra or Mixed Instrument, near the main entrance. Even today, this instrument is capable of depicting the time of four other places in the world accurately when it is noon in Delhi.