India Gate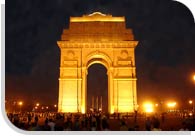 Surrounded by large stretches of lawns, India Gate is a great historical monument, an ideal destination for family picnic and boating. India Gate is a place to watch life roll by, as well as the colours and people from all over the world. It is one of the popular tourist attractions in New Delhi. Be it the summer evenings or the winters, India Gate is illuminated after the sunset and the sight is magnificent.
Historical Value
India Gate is a historical monument built in 1931, in the memory of the 90,000 Indian soldiers martyred during the First World War and the Afghan War of 1919. Officially known as All India War Memorial, this monument also houses an Eternal Flame, 'Amar Jawaan Jyoti', a tribute to the Indian soldiers who laid their lives in the 1971 war with Pakistan.The shrine is a black marble commemorative which has a rifle placed on the cask peaked by the helmet of a soldier.
Architectural Art
160 feet (about 42 m) high, India Gate is built from red Bharatpur stone with an arch of about 138 feet. The foundation of this Memorial was laid by the Duke of Connaught in February 1921, and ten years from then, the monument was completed in 1931 by Sir Edwin Lutyens. Standing at the eastern end of the Rajpath (the road which leads to the Rashtrapati Bhawan), this All India War Memorial once comprised the statue of King George V. An extraordinary view of the Rastrapati Bhavan is seen from the basement of the arch.
The names of the 90,000 soldiers, who laid their lives in the First World War and the Afghan Fiasco of 1919, are inscribed on the walls.
The lush green lawns serve as great family picnic spots in the evenings. Several salesmen can be seen selling balloons, soft drinks, snacks, toys etc. The fountains add beauty to the lawns. There are other entertainment packages in the India Gate including camel rides, monkey dances and boating in the artificial ponds. The wide lawns also serve as playgrounds for sports like cricket, football and other outdoor games.
Located close to Connaught Place in central Delhi, India Gate is easily accessible by buses, autorickshaws or taxis from any part of the city.