Akshardham Temple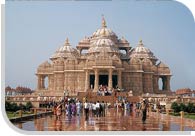 Portraying 10,000 years of Indian culture through its beautiful monument, fantastic exhibitions, lush gardens and many other attractions, the Akshardham Temple is one of the wonders of the modern world and India as well. Visit Akshardham to get the essence of India's age-old excellent architecture, rich traditions and valuable spiritual messages. The Akshardham complex, located near the Nizamuddin Bridge along the bank of River Yamuna, is dedicated to Lord Swaminarayan. The temple covers about 100 acres of lush lawns and boasts of its extraordinary architecture constructed by around 11,000 artisans and BAPS (Bochasanwasi Shri Akshar Purushottam Swaminarayan Sanstha) volunteers.
Significance
The word 'Akshardham' literally means 'the divine abode of the supreme power, as written in Hindu Vedas and Upanishads. Dedicated to 18th century saint 'Swaminarayan', the temple is managed by the Swaminarayan Sect. It took about Rs. 200 crore to build this pink sandstone cultural complex. Akshardham Mandir was inaugurated on November 6, 2005 in the presence of Former President Dr. APJ Abdul Kalam. It is built in an architectural style quite similar to that of the Akshardham temple in Gujarat.
Architecture
Showcasing the grandeur of Indian history, art, culture and values, Akshardham temple is made of white marble and red sandstone. One can easily observe the influence of architectural patterns of Mughal and Jain pilgrimages along with that of several Indian states like Rajasthan, Orissa and Gujarat. The most amazing part lies in the fact that despite having 234 unmatched carved pillars, 20 shikhars, 9 domes, floral motifs, archs, a massive Gajendra Pith (plinth of stone elephants) and more than 20,000 statues, the temple is constructed without the use of steel and cement.
The main hall that comprises the 11 feet high statue of Lord Swaminarayan, is itself 141 feet high, 316 feet broad and 356 feet long. Along with a unique glimpse of the Hindu religion and Indian culture, the main temple exhibits several paintings and statues of great Indian saints. Built according to the ancient Sthaapatya Shastras of India, the temple has used about 6000 tons of pink sand-stone from Rajasthan. The temple complex has an IMAX theatre, a food court, a gallery and an open-air theatre to entertain and facilitate the devotees.
Major Attractions Of The Akshardham Temple
Hall of Values: The hall where audio-animatronics and unique 3-D dioramas are used to teach the universal values for mankind and to depict the life of Lord Swaminarayan. The disciples are taught the messages of ahimsa, prayer, endeavour, morality, vegetarianism and family harmony.
Giant Screen Film: A unique period film 'Neelkanth Darshan' presenting the story of an 11 year old child Yogi Neelkanth Varni. The film has been shot in 108 different locations across India with 30 huge settings and 45,000 cast in colourful costumes.
Musical Fountain (Yagnapurush Kund): A unique blend of a musical fountain and a Vedic Yagna Kund. Measuring 300 ft x 300 ft, it is the world's largest Yagna Kund with 2,870 steps and 108 small shrines.
Garden of India: Also called 'Bharat Upvan'; well maintained lawns, lush gardens and magnificent bronze statues of great saints, warriors, freedom fighters, national figures and noted women personalities of India.
Yogihriday Kamal: An artificial lotus; built in the memory of Yogiji Maharaj, who dreamed of Akshardham. Every petal of Yogihriday Kamal stands for the auspicious sentiments of Yogiji and spreads the messages of faith in God and human being.
Boat Ride: A 12 minute exciting boat-ride that takes you way back 10,000 years to India's glorious past. During this small boat ride one comes to know about the discoveries and inventions of the renowned rishi-scientists of India, including the world's first university of Takshashila and the enchanting caves of Ajanta- Ellora.
The temple looks stunning at night. A visit to Akshardham Temple exposes you to India's famous art, high values and great contributions for the progress, happiness and harmony of mankind.